News
How to Compose Client Satisfaction Survey Questions.
2013-10-24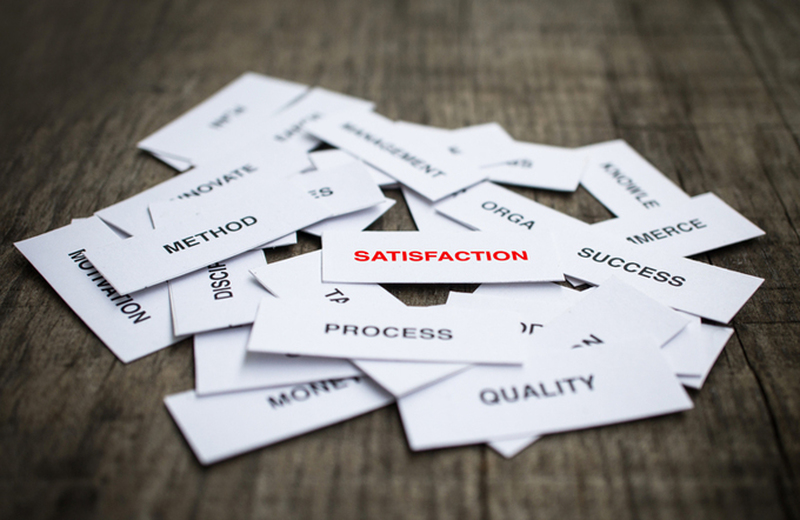 The success of any research like client satisfaction survey and many others depends not only on properly selected tool, that will help to create it and use of relevant method of their distribution, but also it depends on the competently composed questions. While investing money and efforts in developing and promotion of questionnaires, you have to be sure that the target audience will not ignore them, treat them dismissively and will provide you with an accurate information. Everything of the above can be achieved by following the simple rules of questions creation.
First of all, your client satisfaction survey sample must have a certain theme, structure and purpose. Questions on various unrelated to each other topics can be confusing and cause irritability of respondents. There shouldn't be too much of the questions. The client is going to accommodate your requests by kindly agreeing to take part in the client satisfaction survey. That's why it is not necessary to test his patience and extinguish the enthusiasm.
A good practice is to use different types of questions for specific target information.
If you are not sure that all the options for an answer are provided, then you should use the option with the field for free text.
Remember that some questions require an answer that has to consist of several options. If you ignore this point then the obtained information would be inaccurate in the best case.
Osgood scale is used primarily for identifying the differences in relation to certain products, brands, companies by matching the profile views.
Gradient scale is applicable in questions containing more than one answer, which is equally relevant to the studied points of the question itself. For example, "How important are the following characteristics of the product for you?" Possible answers present a matrix, rows of which correspond to the certain characteristics of the product, "quality, price, functionality, appearance," while columns correspond to the importance degree of the studied subject, "extremely unimportant, unimportant average importance, important, most important".
You should also provide respondent with an opportunity to skip the question. Otherwise, in case of any difficulties, he will just pick the first available option.
Client satisfaction survey questions have to be precise and clear. If it is required, then specify the exact names, time intervals, set answer options that would not overlap with each other. For example, a question "How many bottles of beer do you buy at the days off?" with answer options "1-2, 2-4, 5-6, over 6" the majority of respondents will understand differently and the target information will not be achieved. Firstly, people can have a different number of days off per week; secondly, it is difficult to understand whether beer purchased for themselves or for others is taken into account; thirdly, what answer option should respondents choose if they buy 2 bottles of beer? Bad practice also is to use words that may have multiple meanings without context in your client satisfaction survey. "How would you evaluate the work of the postal service in your place of residence?" It's difficult to understand what is meant: region, city or street?
The availability of conditional branching will make your client satisfaction survey sample more professional and thus you'll be able to avoid the questions which persuade respondent to choose a certain answer: "What wasn't good about the service of our company?" Such question is better to compose as "Did you like the service of our company?" If the respondent answers, "No", he will be asked "With what point exactly weren't you satisfied?". If he answers, "Yes," the question above will be skipped.
You should avoid questions that contain double structure, dividing them into two independent ones. "How would you evaluate the work of our support team by phone / e-mail?" The client could get no answer, when he contacted support via e-mail. On contrary he could receive an exemplary service by phone and thus his assessment of company's various communication channels will not be the same.
As a rule, even meticulous approach and careful planning can't guarantee that client satisfaction survey won't contain errors and inaccuracies, therefore it is recommended to conduct a pilot test on a small percentage of the target audience. After that, the analysis of the received responses and the conformity of the collected information to the needed requirements is checked.
In our survey tool we took into account the hundreds of successful researches experience. That's why it is simple to use and effective at the same time. We, at Examinare, are always ready to help you avoid unnecessary problems, difficulties and we'll save your time during planning, designing, conducting client satisfaction survey and many others as well as during subsequent analyzing the result.
This article is about Examinare the Survey Tool.
Our service for successfully by yourself create Surveys in mobile, desktop, kiosks.
Read More
Contact Examinare
+1 844-521-7900 (TOLL FREE)
+1 408-471-0100

Price Quotation
Find out how Examinare can help you! One of our Examinare experts will contact you shortly to discuss your needs and how you can benefit from Examinare Solutions.
Fill in the form and we will contact you shortly.