News
Examinare Major Release version 11 – Ocean Picnic.
2014-09-19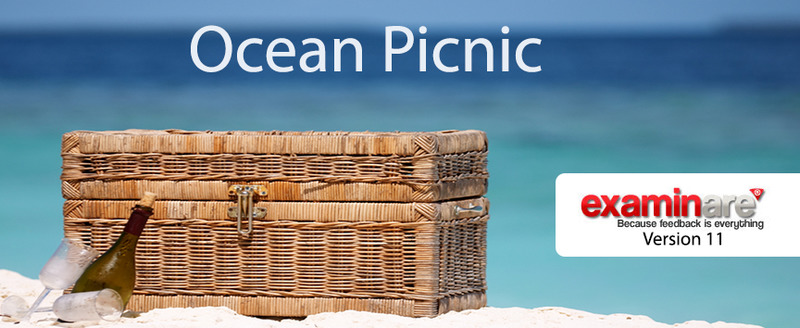 It is our pleasure to announce our new version 11 code name "Ocean Picnic" has been implemented into the Examinare Framework. Ocean Picnic is stacked with new functionality and improvements. We have added some of the highlights here.
Now you can use Examinare Surveys as Forms.
Ever since the start of Examinare we have been focused on supplying the best solution for Online Surveys. Now we take an easy step and provides you with a very simple way of converting these online Survey forms to Forms that show all questions in one page. This will help you to use Examinares Forms in invites and registrations.
New Online Manual with Video Tutorials.
We have updated our manual and implemented it into Examinare. With 1 click you can reach the Online Manual with step to step instructions and all steps have video tutorials as well. This will make it easier for you to see all the steps needed for the most basic tasks.
Examinare Template Database.
We now have a Template Database for all our customers with the most common Surveys that are created in the Survey Field. All the Templates are tested and translated into numerous languages and are accessed from 1 click.
Brand new Translation Console.
When sending Surveys in different languages there is a need to translate the Survey into a couple of languages and then implement it into Examinare. We have now support to easily export and import Examinare files and translate them or from 1 click load the template into the translation console and make automatic translations / manual translations without changing the setup of the Survey itself.
CSS can now be custom made.
Examinare Survey Tool now have the ability to change all the styles with your Custom Made CSS Code. With the help of Layout tab you can now add any CSS you want inside the survey and make it stand ut exactly like you want it to be.
We will of course continue to improving our Survey Tool and any improvementrequests are welcome to be submitted to the support@examinare.com email address.
This article is about Examinare the Survey Tool.
Our service for successfully by yourself create Surveys in mobile, desktop, kiosks.
Read More
Contact Examinare
+1 844-521-7900 (TOLL FREE)
+1 408-471-0100

Price Quotation
Find out how Examinare can help you! One of our Examinare experts will contact you shortly to discuss your needs and how you can benefit from Examinare Solutions.
Fill in the form and we will contact you shortly.