News
Update to Examinare Zendesk integration, supports now all languages available inside Zendesk.
2017-03-12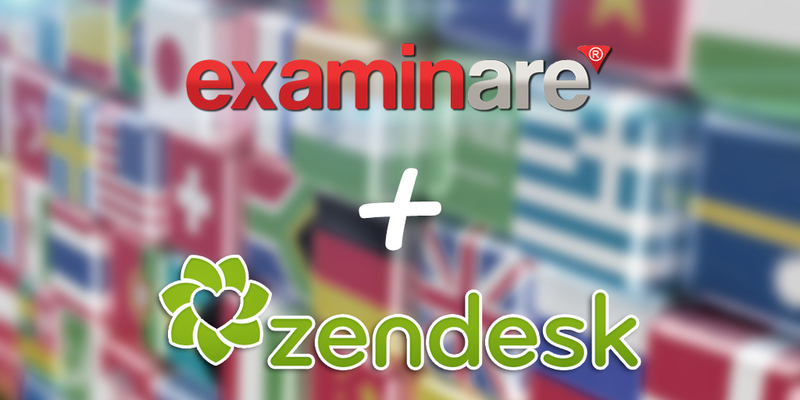 Zendesk integration is one of the most demanded functions inside Examinare Survey Tool. Lots of companies that use this customer support ticket system today have a need to evaluate the quality of support, issue resolution, service agent's work and so on. Examinare provides integration of automatic surveys into Zendesk for already several years. Our new update enhances the survey functionality in a way, that gives wide opportunities of satisfaction evaluation for companies, which work with clients from different countries and speak different languages.
How does the new Zendesk Integration update work?
We have updated our Zendesk Integration functionality and now it is able to support all the languages available inside Examinare. With this upgrade Examinare detects the language of the support ticket and when it is solved, schedules an automatic survey invite sending in the appropriate language. Survey invite in turn is linked to the translated version of your survey. Thus, after the setup of Examinare Zendesk Integration, all of your customers (whose ticket was solved) will automatically receive surveys in their native language according to the settings and you will be able to control their satisfaction and the service level accordingly.
At present, the languages supported by Examinare Zendesk Integration are Arabic, Brazilian Portuguese, Czech, Danish, Dutch, English, Finnish, French, German, Greek, Hebrew, Hindi, Indonesian, Italian, Japanese, Korean, Norwegian, Polish, Russian, Simplified Chinese, Spanish, Swedish, Thai and Turkish.
How can the automatic surveys be connected to your Zendesk support system?
In order to activate survey sending to your customers in Zendesk, you should perform the following actions.
Create your survey in Examinare Survey Tool.
Publish your survey as a Private web survey in Examinare.
Create test tickets inside Zendesk and solve them to let Examinare trigger accordingly survey invite sending later.
Activate Zendesk integration inside Examinare. Add your API credentials, email, Zendesk domain, invite message, choose an appropriate survey and set the amount of days for sending the survey after the ticket has been solved.
(Optional) if you want to save the results into the Zendesk tickets, then order an integration project from Examinare Support.
Get help from Examinare with the setup of your solution and survey creation.
We always help and support our customers on all stages of their work. If you need any advice or want us to do Zendesk Integration setup for you, just contact us via phone, email or online chat and we will make sure your automatic Zendesk customer satisfaction surveys are working as they should.
This article is about Examinare the Survey Tool.
Our service for successfully by yourself create Surveys in mobile, desktop, kiosks.
Read More
Contact Examinare
+1 844-521-7900 (TOLL FREE)
+1 408-471-0100

Price Quotation
Find out how Examinare can help you! One of our Examinare experts will contact you shortly to discuss your needs and how you can benefit from Examinare Solutions.
Fill in the form and we will contact you shortly.