News
Two Of 2017 Software Awards Go To Examinare
2017-04-18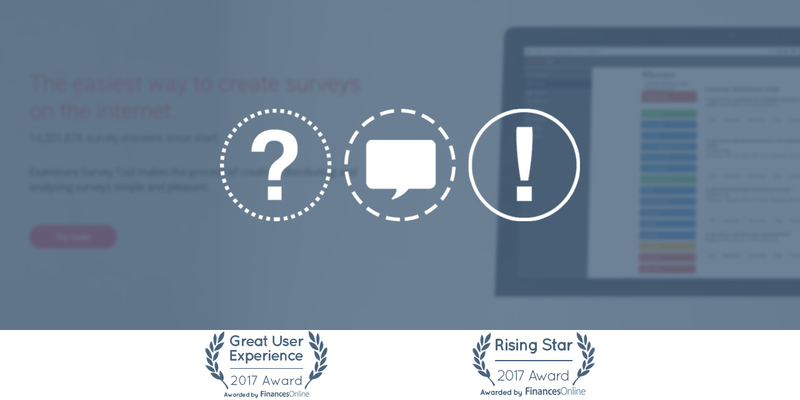 With every passing day more and more companies benefit from the possibilities, which Examinare Survey Tool brings into their business. Today we are happy to share with you that our survey tool has just become the winner of Rising Star Award for 2017 and Great User Experience Award delivered by FinancesOnline. This respected software review platform featured our product in a detailed Examinare Survey Tool review, where their experts named our product as "an ideal application for sales and marketing professionals, product researchers, and other users looking for a data mining product to quickly create and conduct surveys both on the web and in the field". There's no doubt that more than 14 million successful survey answers in Examinare helped us to earn a 100% User Satisfaction rating by FinancesOnline.
Team of experts from FinancesOnline works devotedly to examine hundreds of software solutions and we are proud to be included in their best survey tool category. According to their experts, Examinare Survey Tool is an ideal application for businesses, researchers, product developers, and more, because creating, distributing, and analysing surveys is simple and pleasant with Examinare. What they also appreciated was the extendibility of our platform to various CRM systems as well as to business applications, including Dropbox, Zendesk, WooCommerce and many more. We also enjoyed a spot on their list of the top survey software products.
Unlike many reputed survey products, the reviewers said, Examinare gives companies the possibility to automatically gather and track their clients' satisfaction and to deploy, practically, any survey solution for any business individually. Experts also agreed that for such a rich functionality, Examinare Survey Tool is very reasonably priced, and they praised our annual subscription plans which make the system even more affordable.
Premium Survey Tool With Extensive Support
If you're thinking of implementing any kind of surveys, order one of our account plans and try it free for 7 days. For deploying an individual survey solution, feel free to send an inquiry, describing what kind of project are you planning and our team of experts will give you a price estimation within the shortest time possible.
This article is about Examinare the Survey Tool.
Our service for successfully by yourself create Surveys in mobile, desktop, kiosks.
Read More
Contact Examinare
+1 844-521-7900 (TOLL FREE)
+1 408-471-0100

Price Quotation
Find out how Examinare can help you! One of our Examinare experts will contact you shortly to discuss your needs and how you can benefit from Examinare Solutions.
Fill in the form and we will contact you shortly.